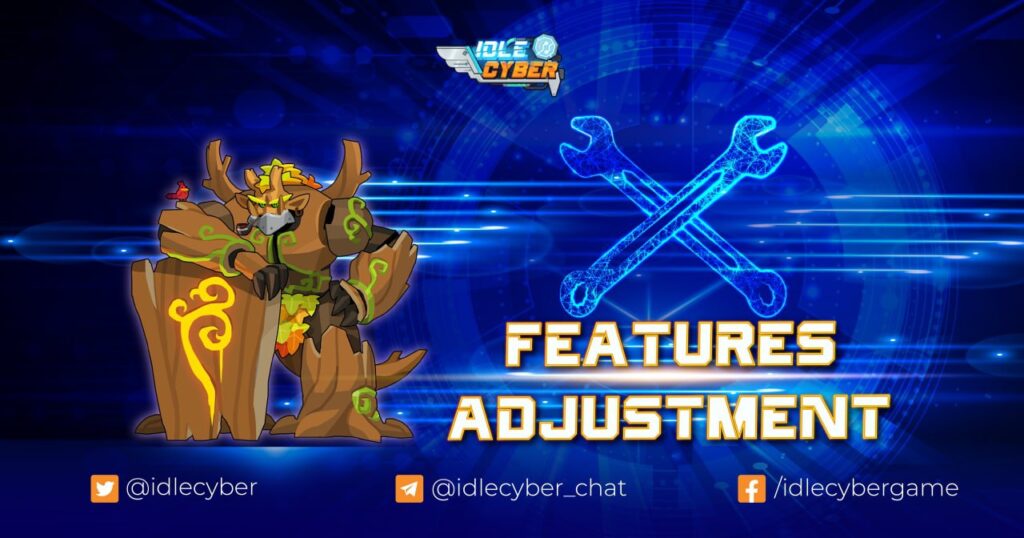 🛠 To help Cyber Masters experience the game more easily and better. We will update and adjust some features and elements in the game as follows:
🔺Grand Arena: Players from Level 0, Arena Points = 0 can join this mode (Formerly: Requires Level 55 and Arena Points 1000)
🔺 Daily Quest: Erase mission "Win 1 Battle in Campaign mode"
🔺 EXP system: Players will not lose EXP Points if they are inactive
📍Note: Currently, the new features have been adjusted. The text in the game will be updated by us later.
😍 Idle Cyber always listens to players, give us your feedback here.
😎 And, don't forget to join the Top Arena Season 4 with many attractive rewards!
⛳️ Join Idle Cyber Facebook group https://www.facebook.com/groups/idlecybergame to be supported as soon as possible
⛳️ Or fill your feedback and inquiry form here: https://bit.ly/afkfeedback
_______________________________________________
𝗜𝗗𝗟𝗘 𝗖𝗬𝗕𝗘𝗥 | 𝗚𝗹𝗼𝗯𝗮𝗹 𝗖𝗵𝗮𝗻𝗻𝗲𝗹 & 𝗖𝗼𝗺𝗺𝘂𝗻𝗶𝘁𝘆
🌐 Website: https://www.idlecyber.com/
📖 Wiki: https://docs.idlecyber.com/en-us/
🎯 Telegram Global Official: https://t.me/idlecyber
🔥 Telegram Global Community: https://t.me/idlecyber_chat
👾 Discord: https://discord.gg/VAj3whYwFZ
⭐️ Twitter: https://twitter.com/idlecyber
🔰 Facebook Fanpage: https://www.facebook.com/idlecybergame
🔹 Facebook Group: https://www.facebook.com/groups/idlecybergame
🔆 Medium: https://medium.com/@IdleCyber
📢 Youtube: https://www.youtube.com/c/idlecybergame
__________
𝗜𝗗𝗟𝗘 𝗖𝗬𝗕𝗘𝗥 | 𝗟𝗼𝗰𝗮𝗹 𝗖𝗵𝗮𝗻𝗻𝗲𝗹 & 𝗖𝗼𝗺𝗺𝘂𝗻𝗶𝘁𝘆
🇵🇭 Philippines Idle Cyber: https://t.me/IdleCyberPhilippines
🇻🇳 Vietnam Idle Cyber:
– Channel: https://t.me/idlecybervn
– Community: https://t.me/idlecybervietnam