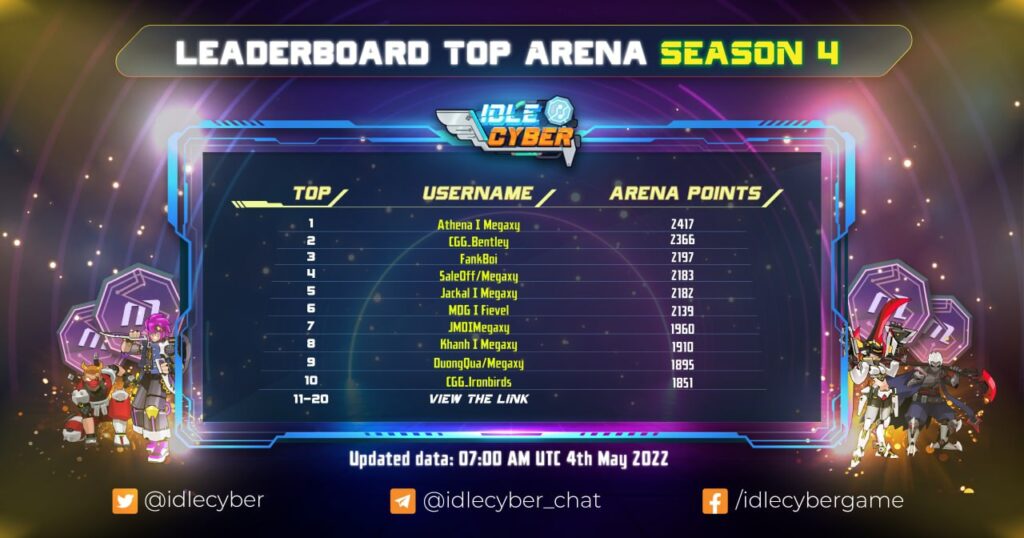 ✌️ Welcome Cyber Masters back with this week's top player rankings, let's take a look the present ranking.
📣 Important Note: Only 3 days left, Top Arena Season 4 event will officially close. Cyber Masters, please try your best to achieve high rankings!
Keep the spirit and enthusiasm with Top Arena Season to receive attractive rewards. Good luck to Cyber Masters!
⛳️ Join Idle Cyber Facebook group https://www.facebook.com/groups/idlecybergame to be supported as soon as possible
⛳️ Or fill your feedback and inquiry form here: https://bit.ly/afkfeedback
_______________________________________________
𝗜𝗗𝗟𝗘 𝗖𝗬𝗕𝗘𝗥 | 𝗚𝗹𝗼𝗯𝗮𝗹 𝗖𝗵𝗮𝗻𝗻𝗲𝗹 & 𝗖𝗼𝗺𝗺𝘂𝗻𝗶𝘁𝘆
🌐 Website: https://www.idlecyber.com/
📖 Wiki: https://docs.idlecyber.com/en-us/
🎯 Telegram Global Official: https://t.me/idlecyber
🔥 Telegram Global Community: https://t.me/idlecyber_chat
👾 Discord: https://discord.gg/VAj3whYwFZ
⭐️ Twitter: https://twitter.com/idlecyber
🔰 Facebook Fanpage: https://www.facebook.com/idlecybergame
🔹 Facebook Group: https://www.facebook.com/groups/idlecybergame
🔆 Medium: https://medium.com/@IdleCyber
📢 Youtube: https://www.youtube.com/c/idlecybergame
__________
𝗜𝗗𝗟𝗘 𝗖𝗬𝗕𝗘𝗥 | 𝗟𝗼𝗰𝗮𝗹 𝗖𝗵𝗮𝗻𝗻𝗲𝗹 & 𝗖𝗼𝗺𝗺𝘂𝗻𝗶𝘁𝘆
🇵🇭 Philippines Idle Cyber: https://t.me/IdleCyberPhilippines
🇻🇳 Vietnam Idle Cyber:
– Channel: https://t.me/idlecybervn
– Community: https://t.me/idlecybervietnam