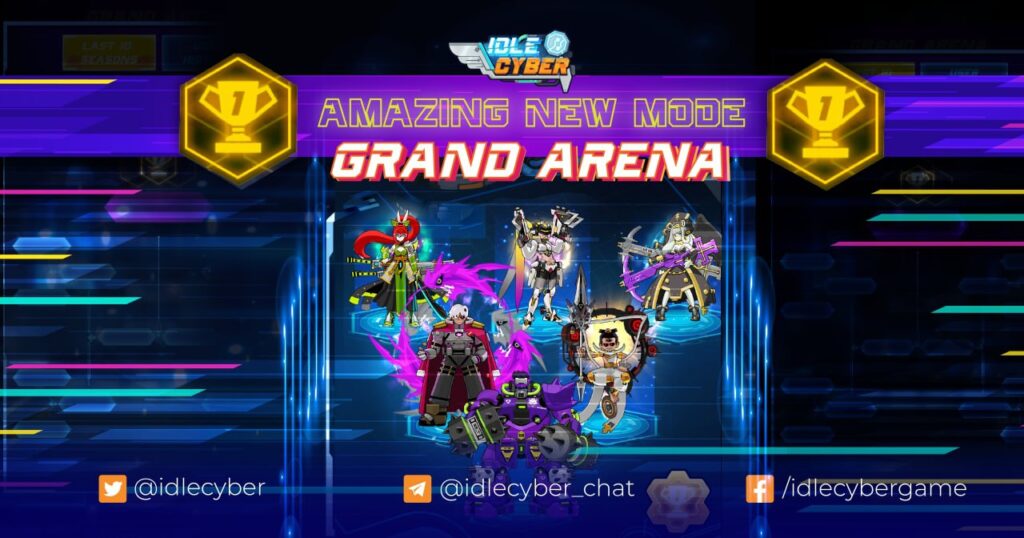 😍 One of the most anticipated modes is coming soon after the maintenance update season 4 – the exciting Grand Arena mode! ️🎊
😘 Coming to this mode, players will be able to freely express their tactics without being limited to the amount of Cyber they own.
Some information about Grand Arena mode:
📌 Ticket purchase fee is 1,000 mAFK/1 ticket.
📌 Each Account is given 1 ticket to try it out
📌 Bet 20,000 mIDLE
📌 Choose and arrange 3 squads from the Cyber provided by the game: quality from A > SS with Base HP, Base ATK, Tier and Level Up stats all MAX
📌The winning team in the final round will receive 80% of the total mIDLE contributed to the tournament, the remaining 20% of mIDLE will be burned.
👉 For more details, please click here.
♦️ Stay calm and wait for the latest information from Idle Cyber!
⛳️ Join Idle Cyber Facebook group https://www.facebook.com/groups/idlecybergame/ to be supported as soon as possible
⛳️ Or fill your feedback and inquiry form here: https://bit.ly/afkfeedback
---
𝗜𝗗𝗟𝗘 𝗖𝗬𝗕𝗘𝗥 | 𝗚𝗹𝗼𝗯𝗮𝗹 𝗖𝗵𝗮𝗻𝗻𝗲𝗹 & 𝗖𝗼𝗺𝗺𝘂𝗻𝗶𝘁𝘆
🌐 Website: https://www.idlecyber.com/
📖 Wiki: https://docs.idlecyber.com/en-us/
🎯 Telegram Global Official: https://t.me/idlecyber
🔥 Telegram Global Community: https://t.me/idlecyber_chat
👾 Discord: https://discord.gg/VAj3whYwFZ
⭐️ Twitter: https://twitter.com/idlecyber
🔰 Facebook Fanpage: https://www.facebook.com/idlecybergame
🔹 Facebook Group: https://www.facebook.com/groups/idlecybergame
🔆 Medium: https://medium.com/@IdleCyber
📢 Youtube: https://www.youtube.com/c/idlecybergame
---
𝗜𝗗𝗟𝗘 𝗖𝗬𝗕𝗘𝗥 | 𝗟𝗼𝗰𝗮𝗹 𝗖𝗵𝗮𝗻𝗻𝗲𝗹 & 𝗖𝗼𝗺𝗺𝘂𝗻𝗶𝘁𝘆
🇵🇭 Philippines Idle Cyber: https://t.me/IdleCyberPhilippines
🇻🇳 Vietnam Idle Cyber:
Channel: https://t.me/idlecybervn
Community: https://t.me/idlecybervietnam