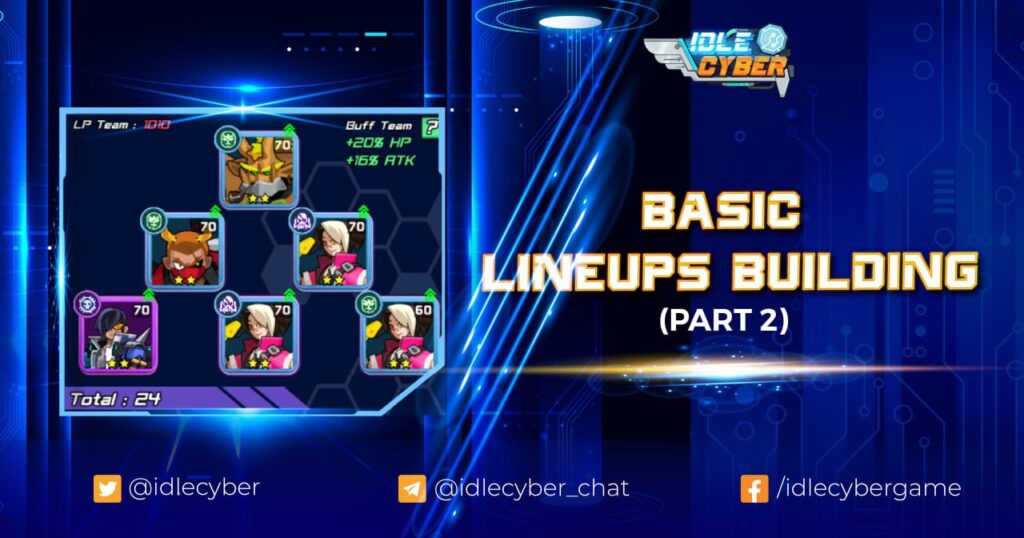 🔮 After choosing the desired team, the player can proceed to evolve the Cybers, then the Cyber will be increased in strength and unlock new skills. From there, participating in PVE and PVP modes will become easier.
🛡 Players should prioritize evolving the Tanker class to increase protection for the back row of the squad. Next, we will evolve the main damage Hero of the team ( 2* to unlocks new skills).⚔️
💰 If it possible, you should evolve and upgrade the whole squad to 2* and level 70 to be able to compete more effectively in PVP activities, especially for Top Arena Season tournaments. If not, upgrade from 2-4 Cyber 2* to level 70 to optimize the amount of mIdle earned daily.
⛳️ Join Idle Cyber Facebook group https://www.facebook.com/groups/idlecybergame/ to be supported as soon as possible
⛳️ Or fill your feedback and inquiry form here: https://bit.ly/afkfeedback
---
𝗜𝗗𝗟𝗘 𝗖𝗬𝗕𝗘𝗥 | 𝗚𝗹𝗼𝗯𝗮𝗹 𝗖𝗵𝗮𝗻𝗻𝗲𝗹 & 𝗖𝗼𝗺𝗺𝘂𝗻𝗶𝘁𝘆
🌐 Website: https://www.idlecyber.com/
📖 Wiki: https://docs.idlecyber.com/en-us/
🎯 Telegram Global Official: https://t.me/idlecyber
🔥 Telegram Global Community: https://t.me/idlecyber_chat
👾 Discord: https://discord.gg/VAj3whYwFZ
⭐️ Twitter: https://twitter.com/idlecyber
🔰 Facebook Fanpage: https://www.facebook.com/idlecybergame
🔹 Facebook Group: https://www.facebook.com/groups/idlecybergame
🔆 Medium: https://medium.com/@IdleCyber
📢 Youtube: https://www.youtube.com/c/idlecybergame
---
𝗜𝗗𝗟𝗘 𝗖𝗬𝗕𝗘𝗥 | 𝗟𝗼𝗰𝗮𝗹 𝗖𝗵𝗮𝗻𝗻𝗲𝗹 & 𝗖𝗼𝗺𝗺𝘂𝗻𝗶𝘁𝘆
🇵🇭 Philippines Idle Cyber: https://t.me/IdleCyberPhilippines
🇻🇳 Vietnam Idle Cyber:
Channel: https://t.me/idlecybervn
Community: https://t.me/idlecybervietnam