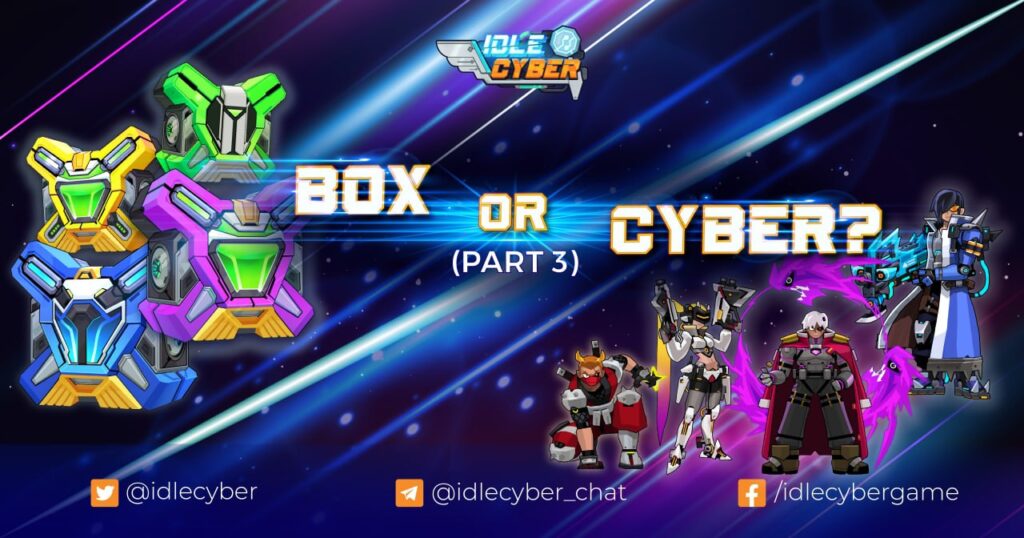 ️🎭 Cons of buying Cyber:
✔️ Sometimes there isn't the right cybers in the price range you want to buy or the right cyber has the skills and system to match the squad to the player's needs.
✔️ Players who only buy Cyber will not have enough materials to evovle Cybers, thereby resulting in underdeveloped squads and inability to participate in PVP activities.
✔️ Difficult and many procedures in the process of manipulating the wallet, taking time to learn compared to newcomers to the NFT game.
Seemore: 🤠 NEWBIE SERIES: SHOULD PLAYERS BUY BOXES OR CYBERS AT THE BEGINNING? (PART 1/5)
🎓 NEWBIE SERIES: SHOULD PLAYERS BUY BOXES OR CYBERS AT THE BEGINNING? (PART 2/5)
⛳️ Join Idle Cyber Facebook group https://www.facebook.com/groups/idlecybergame/ to be supported as soon as possible
⛳️ Or fill your feedback and inquiry form here: https://bit.ly/afkfeedback
---
𝗜𝗗𝗟𝗘 𝗖𝗬𝗕𝗘𝗥 | 𝗚𝗹𝗼𝗯𝗮𝗹 𝗖𝗵𝗮𝗻𝗻𝗲𝗹 & 𝗖𝗼𝗺𝗺𝘂𝗻𝗶𝘁𝘆
🌐 Website: https://www.idlecyber.com/
📖 Wiki: https://docs.idlecyber.com/en-us/
🎯 Telegram Global Official: https://t.me/idlecyber
🔥 Telegram Global Community: https://t.me/idlecyber_chat
👾 Discord: https://discord.gg/VAj3whYwFZ
⭐️ Twitter: https://twitter.com/idlecyber
🔰 Facebook Fanpage: https://www.facebook.com/idlecybergame
🔹 Facebook Group: https://www.facebook.com/groups/idlecybergame
🔆 Medium: https://medium.com/@IdleCyber
📢 Youtube: https://www.youtube.com/c/idlecybergame
---
𝗜𝗗𝗟𝗘 𝗖𝗬𝗕𝗘𝗥 | 𝗟𝗼𝗰𝗮𝗹 𝗖𝗵𝗮𝗻𝗻𝗲𝗹 & 𝗖𝗼𝗺𝗺𝘂𝗻𝗶𝘁𝘆
🇵🇭 Philippines Idle Cyber: https://t.me/IdleCyberPhilippines
🇻🇳 Vietnam Idle Cyber:
Channel: https://t.me/idlecybervn
Community: https://t.me/idlecybervietnam