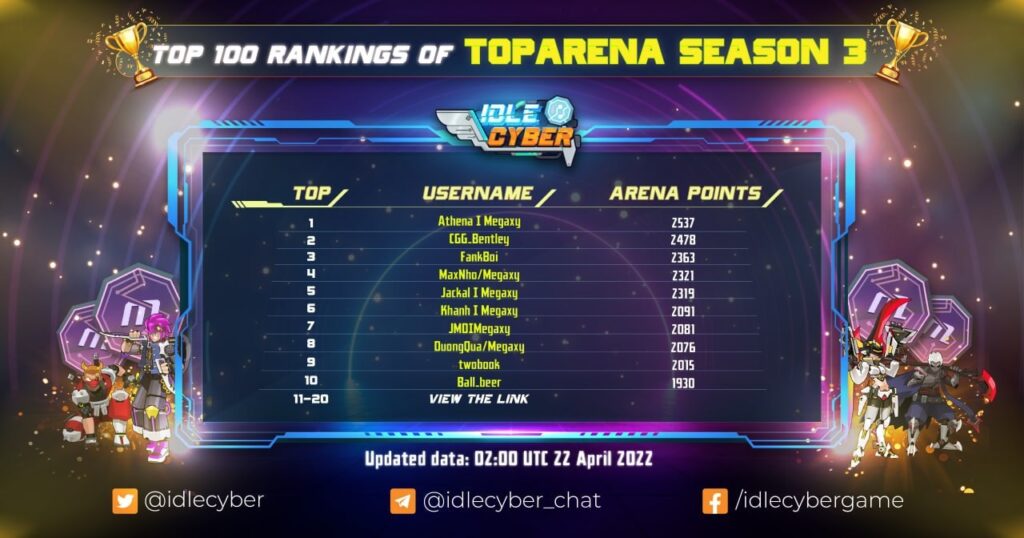 🎋 Out with the old, in with the new. The new season will begin like a breath of fresh air. This must be a moment that Cyber is waiting for, right?😚
🥂 We would like to congratulate the top 100 people who have excellently won high rankings at Top Arena Season 3. Cyber Masters can check details here.
💰 Total prizes: 100 prizes worth 22,800 USD
📌 Prize structure: Many Cyber Boxes depend on players's ranking.
👉 Reward method: The reward of Top 20 Cyber Master will be transferred to the player's BEP-20 wallet. The rest will be transferred directly into the game.
⛳️ If you have any queries, please get in touch with our online support (CMs and MODs) or here.
⛳️ Join Idle Cyber Facebook group https://www.facebook.com/groups/idlecybergame/ to be supported as soon as possible
⛳️ Or fill your feedback and inquiry form here: https://bit.ly/afkfeedback
---
𝗜𝗗𝗟𝗘 𝗖𝗬𝗕𝗘𝗥 | 𝗚𝗹𝗼𝗯𝗮𝗹 𝗖𝗵𝗮𝗻𝗻𝗲𝗹 & 𝗖𝗼𝗺𝗺𝘂𝗻𝗶𝘁𝘆
🌐 Website: https://www.idlecyber.com/
📖 Wiki: https://docs.idlecyber.com/en-us/
🎯 Telegram Global Official: https://t.me/idlecyber
🔥 Telegram Global Community: https://t.me/idlecyber_chat
👾 Discord: https://discord.gg/VAj3whYwFZ
⭐️ Twitter: https://twitter.com/idlecyber
🔰 Facebook Fanpage: https://www.facebook.com/idlecybergame
🔹 Facebook Group: https://www.facebook.com/groups/idlecybergame
🔆 Medium: https://medium.com/@IdleCyber
📢 Youtube: https://www.youtube.com/c/idlecybergame
---
𝗜𝗗𝗟𝗘 𝗖𝗬𝗕𝗘𝗥 | 𝗟𝗼𝗰𝗮𝗹 𝗖𝗵𝗮𝗻𝗻𝗲𝗹 & 𝗖𝗼𝗺𝗺𝘂𝗻𝗶𝘁𝘆
🇵🇭 Philippines Idle Cyber: https://t.me/IdleCyberPhilippines
🇻🇳 Vietnam Idle Cyber:
Channel: https://t.me/idlecybervn
Community: https://t.me/idlecybervietnam