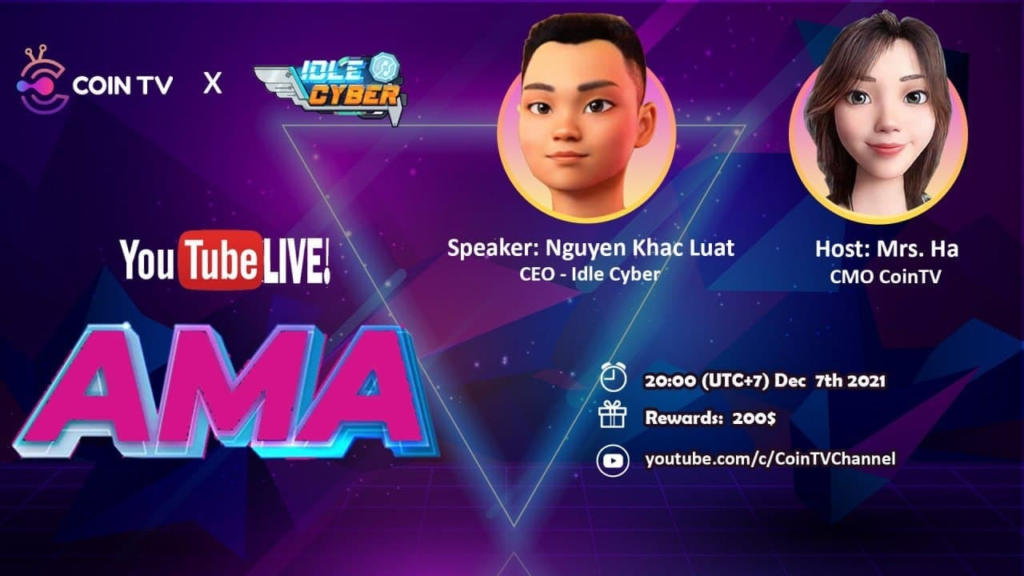 ????#AMA_LIVESTREAM_SERIES???? CoinTV x Idle Cyber
????????COINTV is pleased to announce the organization of a Live AMA Livestream with the IDLE CYBER project⚡️⚡️
????Revealing 02 great events in December with Idle Cyber????
✅Ask questions for the project via Google form: https://bit.ly/3dsExf6
????Rewards: 200$
???????? Guest speaker:
Nguyen Khac Luat _ CEO Idle Cyber
????Form: Youtube Livestream
⏱Time: 8 pm December 7, 2021 (UTC+7)
????Location: https://www.youtube.com/c/CoinTVChannel
????Share this AMA and ask questions about the project to receive a valuable gift!
???? Your cybers are now successfully minted and belonged to you only
---
???????????????? ???????????????????? ????????????????????????????????????
???? Website: https://idlecyber.com/
???? Telegram Global Official: https://t.me/idlecyber
???? Telegram Global Community: https://t.me/idlecyber_chat
⭐️ Twitter: https://twitter.com/idlecyber
???? Facebook Fanpage: https://www.facebook.com/idlecybergame
???? Facebook Group: https://www.facebook.com/groups/630252291326485/
???? Medium: https://medium.com/@IdleCyber
???? Youtube: https://www.youtube.com/channel/UC2Zm9DQ8UhoJVnX4aEru9lQ/video