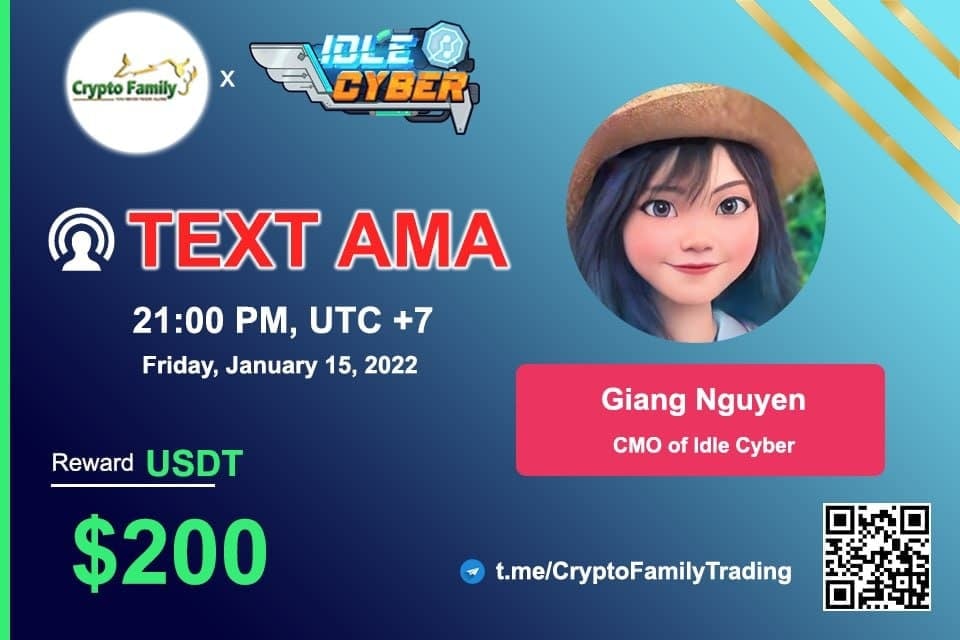 ⏰ Time: 21:00 PM (UTC+7) | Saturday, January 15th, 2022
🏛 Venue: t.me/CryptoFamilyVN
🎙 Guest: Giang Nguyen – CMO of Idle Cyber
🏆 Reward Pool: 200$ for members with the best questions.
1️⃣ Retweet & raise your questions at Twitter: https://bitly.com.vn/f76ex4 right now!
2️⃣ Free Q&A at @CryptoFamilyVN
—————————
🔎 Idle Cyber is a P2E model idle game. Huge content with unlimited levels and PvP mode, the game is a new kind of frontier defense and RPG heroes collection mixed in blockchain technology.
💢 AMA Rules:
🌐 Follow and Retweet Twitter Crypto Family: https://bitly.com.vn/3f7cls
🌐 Join Telegram CryptoFamily: https://t.me/CryptoFamilyTrading
🎯 Join Telegram Global Official: https://t.me/idlecyber
🔥 Join Telegram Global Community: https://t.me/idlecyber_chat
🔹 Join Facebook Group
https://www.facebook.com/groups/idlecybergame/
🔰 Like Facebook Fanpage: https://www.facebook.com/idlecybergame
⭐️ Follow Twitter: https://twitter.com/idlecyber
👉 Prepare your questions for Idle Cyber and earn up to 200$ airdrop for the best questions 💯💯💯