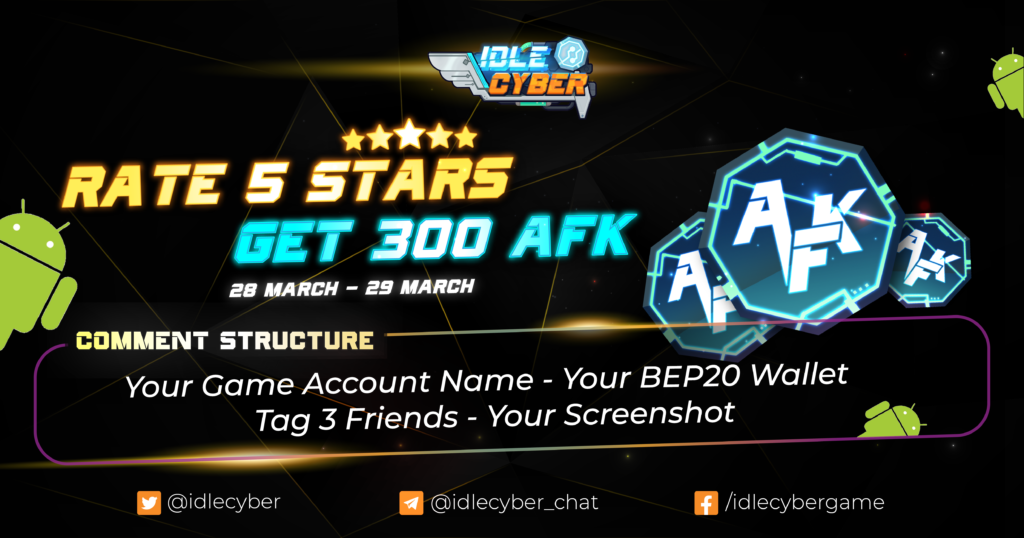 🟩 Operation System: Android
🎁 PRIZE: 300 AFK/each person who completes the tasks
---
⏱Time: 08:00 UTC 28 Mar – 08:00 UTC 29 Mar 2022
🚩 Rules: Do all the tasks below
STEP BY STEP TO JOIN:
1️⃣ Download Idle Cyber on Google Play
2️⃣ Create an account
3️⃣ RATE 5 stars + review
4️⃣ CAPTURE your review & rate
5️⃣ Leave your comment in THIS post on Twitter or Facebook. Make sure you follow the structure:
Your game account/username – Your BEP-20 wallet – Tag 3 friends – Your screenshot
📢 Rewards are distributed within 48 hours from the end of the minigame.
⛳️ In case you have any questions and concerns, please contact Customer Support (CMs and MODs) or here.
Website | Twitter | FB Fanpage – Group | Discord
Telegram: Channel – Chat | Local Telegram: 🇻🇳 | 🇰🇷 | 🇵🇭