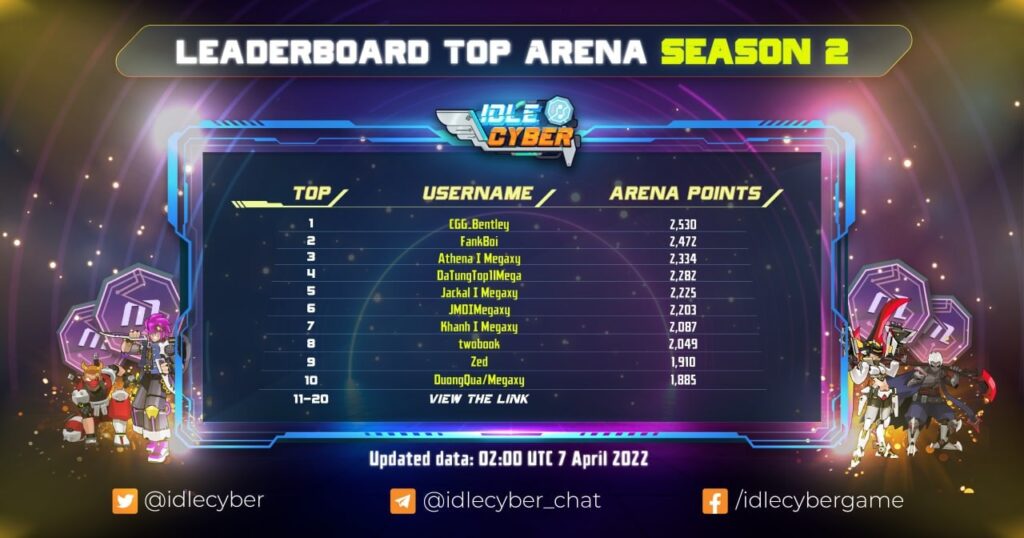 ✨ So the Top Arena season 2 event has officially ended. We can feel the enthusiasm and excitement from all the Cyber Masters.
️🎉🎉 Thank you and congratulations to all Cyber Masters for your efforts to compete and stay ranked! 👍
😎 Below is the list of 100 Cyber Masters leading the official ranking of TOP ARENA SEASON 2
🔸You can check the information of Cyber Masters and rewards right here.
⏱ Event end date: April 7th, 2022
🎁 Total Prize: 139 Cyber Boxes
💰 The reward of Top 1-20 Cyber Master will be transferred to the player's BEP-20 wallet. Top 21-100's reward will be transferred directly into the game.😍
⛳️ For any questions or inquiries, please contact Customer Support (CMs and MODs) or here.
Website | Twitter | Discord | Facebook: Fanpage – Group
Telegram: Channel – Chat | Local Telegram: 🇻🇳 🇰🇷 🇵🇭