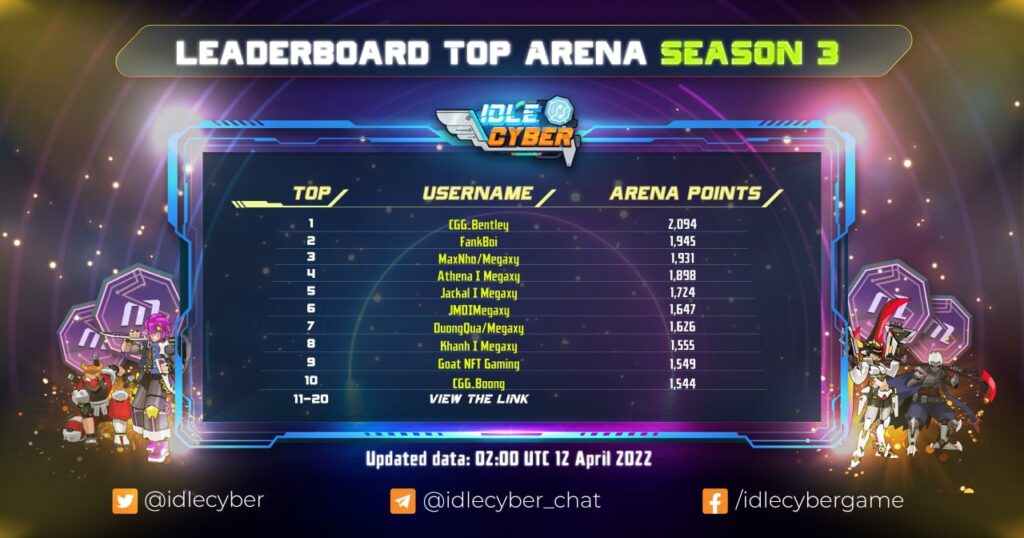 💖 Hi! After the first week of competition, how do the Cyber Masters feel?
✨ Let's continue to see who will be on the top of the leaderboard this week, Shall we?
1️⃣ CGG_Bentley
2️⃣ FankBoi
3️⃣ MaxNho/Megaxy
4️⃣ Athena | Megaxy
5️⃣ Jackal | Megaxy
6️⃣ JMD|Megaxy
7️⃣ DuongQua/Megaxy
8️⃣ Khanh | Megaxy
9️⃣ Goat NFT Gaming
🔟 CGG_Boong
You can check the details right here
🎋 Because players need to have at least 1000 AP points to receive the reward, everyone please actively participate in Top Arena Season 3, good luck!
Website | Twitter | Discord | Facebook: Fanpage – Group
Telegram: Channel – Chat | Local Telegram: 🇻🇳 🇵🇭