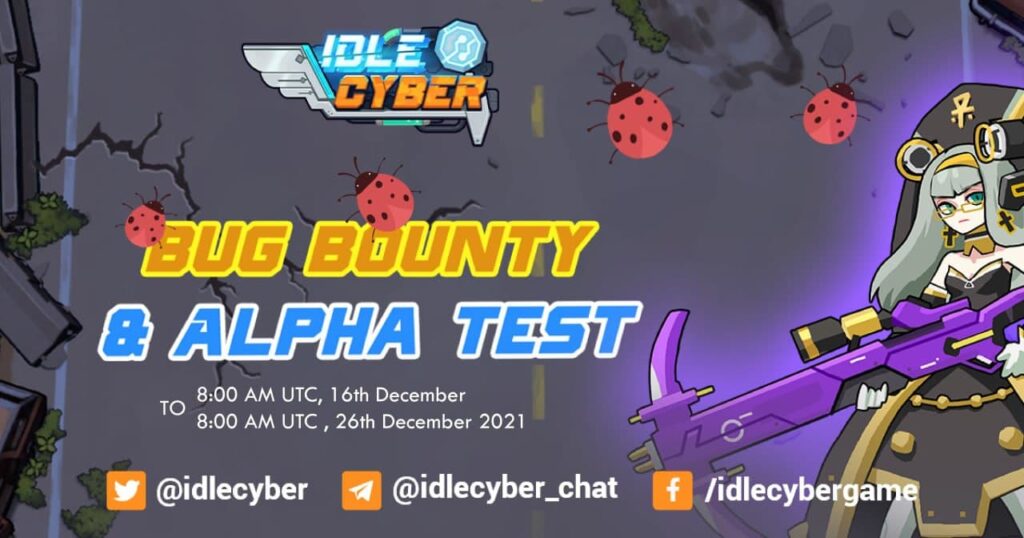 ????OFFICIAL ANNOUNCEMENT: BUG BOUNTY WILL TAKE PLACE AT THE SAME TIME AS ALPHA TEST
???? Timeline: 8:00 AM UTC on December 16th, 2021 – 8:00 AM UTC on December 26th, 2021
????Bunches of attractive prizes are waiting for you.
????Keep updating further accurate information from us
????Always keep up to date with the latest information of Idle Cyber so you won't miss our Alpha Test event.
????Don't forget to follow our channel to keep up with the latest Idle Cyber news! Lots of HOT events is coming soon!
Join our community right now at:
---
???????????????? ???????????????????? ????????????????????????????????????
???? Website: https://idlecyber.com/
???? Telegram Global Official: https://t.me/idlecyber
???? Telegram Global Community: https://t.me/idlecyber_chat
⭐️ Twitter: https://twitter.com/idlecyber
???? Facebook Fanpage: https://www.facebook.com/idlecybergame
???? Facebook Group: https://www.facebook.com/groups/630252291326485/
???? Medium: https://medium.com/@IdleCyber
???? Youtube: https://www.youtube.com/channel/UC2Zm9DQ8UhoJVnX4aEru9lQ/video