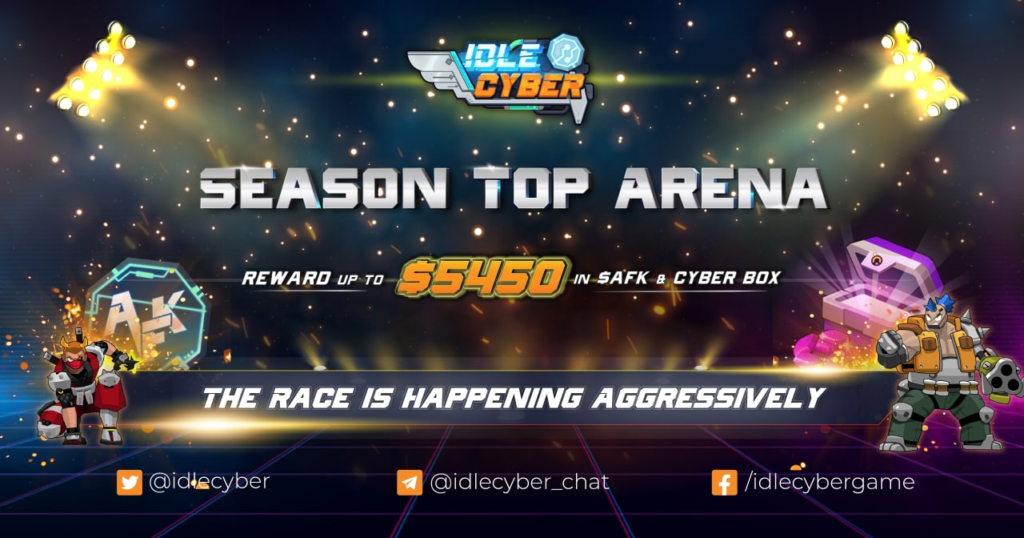 The Season Top Arena race is spreading more and more heat when attracting thousands of registrations and participation from the Idle Cyber community.
️
The total reward value of $5450 will be awarded to the top 20 players who have the highest Arena Point in Arena (PvP)
️
Only 12 days left until the rankings are determined and those who deserve the rewards are the top 20 excellent players.
 What will the end result be? Let's wait!!
Join now (https://t.me/idlecyber/358), the chance that definitely can't be missed out.
See more:

CLOSE BETA GENERAL INFOS
– Close Beta Overview: https://tinyurl.com/yc2udndx
– Reward Structure: https://tinyurl.com/4r6x7sjf
 EVENT INFOS
– Bug Bounty: https://tinyurl.com/47yp7dn5
– Close Beta Review: https://tinyurl.com/2p96ysj6
– Weekly Top Arena Winners: https://tinyurl.com/2p8656sh
– Weekly Top spent mIDLE: https://tinyurl.com/528j4d2b
– Season Top Arena: https://tinyurl.com/2p8eak3
_______________________________________________
IDLE CYBER GLOBAL

🔰 Website | Twitter | Facebook: Fanpage – Group
📢 Telegram: Channel – Chat | Local Telegram: Vietnam Korea Philippines |Discord